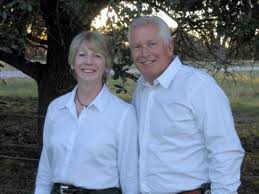 Vic and Di will be with us from today through to the 31st March then again from the 8th April to the 17th April when they fly back home.
We have lots of opportunities to fellowship with them and enjoy their ministry.
Vic will be speaking at the Men's breakfast on Saturday 25th and at Church on Sunday 26th March. Vic and Di will be leading an altogether housegroup meeting on Tuesday 28th March at the Centre at 8pm.
Diane will be speaking at a ladies coffee morning on Monday 27th at 10am at the centre. Vic and Di will be ministering at the Lifegroup on Wednesday 29th and earlier that day at 2pm Vic will be taking the afternoon Bible study.
There are lots of opportunities for people in the fellowship to invite them for dinner too particularly in the week commencing Monday 10th April. Contact the office if you would like to host them.